Fly On Bangkok – Phuket routes during Happy Hours receive Points X3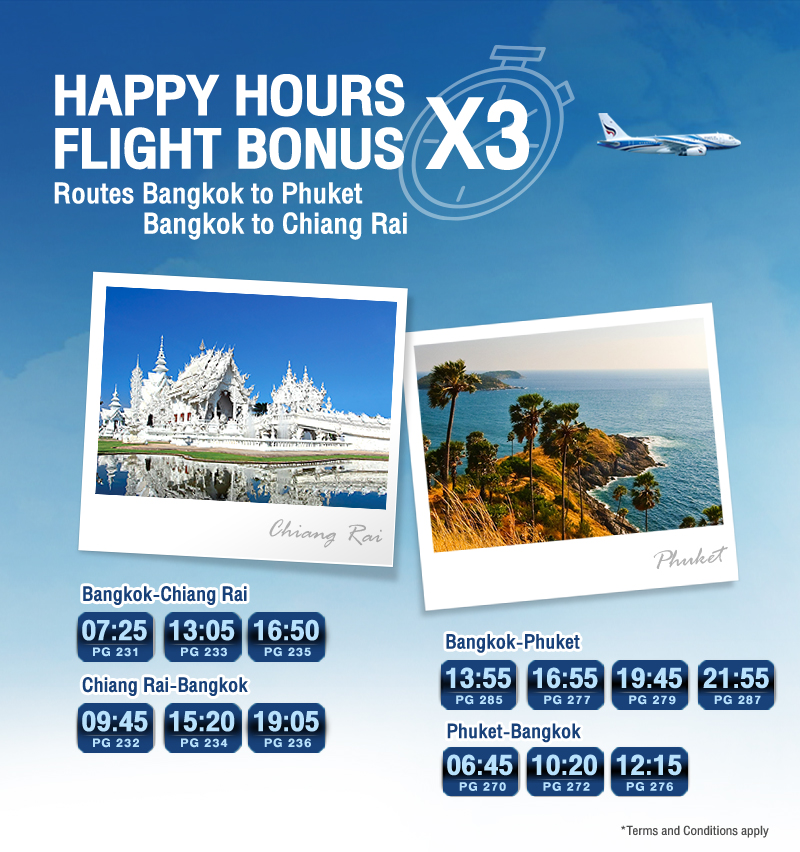 FlyerBonus members when traveling on routes Bangkok – Phuket, Bangkok-Chiang Rai or Phuket - Bangkok, Chiang Rai-Bangkok and receive exclusive deals, points X3 on selected flights and time.
Bangkok-Phuket
PG 285
13:55
PG 277
16:55
PG 279
19:45
PG 287
21:55
Phuket-Bangkok
PG 270
06:45
PG 272
10:20
PG 276
12:15
Bangkok-Chiang Rai
PG 231
07:25
PG 233
13:05
PG 235
16:50
Chiang Rai-Bangkok
PG 232
09:45
PG 234
15:20
PG 236
19:05

Promotion Period: Now - 30 September 2018
Book Now! www.bangkokair.com
Terms & Conditions
This offer applies to those members who travel on the selected flights and time, operated by Bangkok Airways. On the routes, Bangkok (BKK) – Phuket (HKT) and Phuket (HKT) – Bangkok (BKK) during 25 July – 30 September 2018. And on selected Bangkok Airways operated flights and time; on the route, Bangkok (BKK) – Chiang Rai (CEI) and Chiang Rai (CEI) – Bangkok (BKK) during 7 August – 30 September 2018.
To receive a special points offer, Members need to accurately quote their FlyerBonus Membership number and state their intention to collect FlyerBonus points every time a reservation is made with Bangkok Airways.
The special points offer will be calculated from flight base points that are subject to the class of booking.
This offer is applicable for flight activity on tickets booked in all classes except booking class R,P,S,X and Z
Should there be any other FlyerBonus Bonus points on offer, FlyerBonus members will earn FlyerBonus points at the amount of points offered to all members, whichever is more.
Bonus points do not count towards membership status.
This offer applies only to members whose membership approval status has been recorded and confirmed prior to the traveling date.
Bonus points on offer will be credited to members' accounts within 30 working days post-activity.
Bangkok Airways reserves its absolute right at any time to add, alter, modify, change or vary any or all of the terms and conditions stated herein.
In any case of dispute, the decision of Bangkok Airways is final.
All other Terms and Conditions of FlyerBonus apply.