Book Bangkok Airways Flight&Stand to win 500 FlyerBonus Points*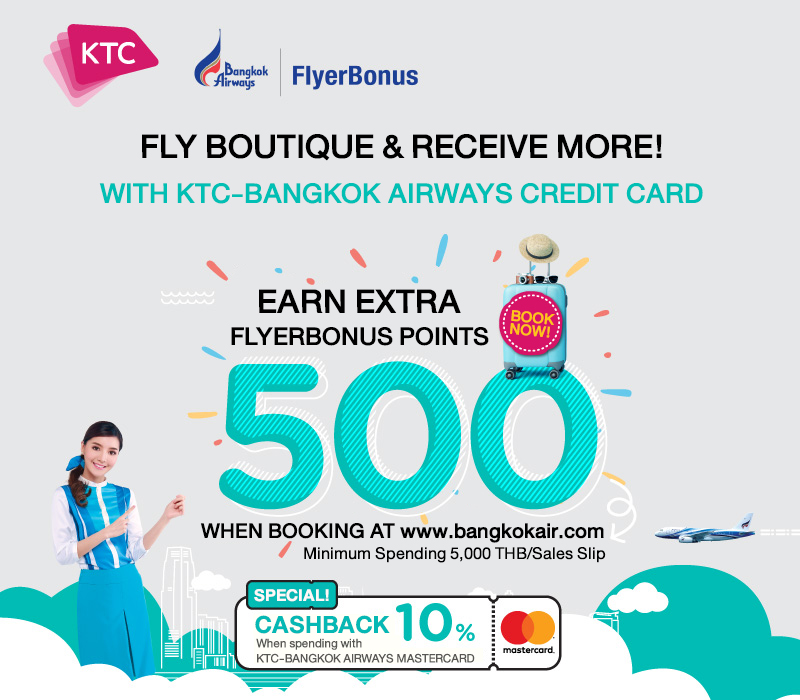 FlyerBonus members when booking flights with Bangkok Airways through www.bangkokair.com, earn a chance to win 500 FlyerBonus Points. When spending with KTC-BANGKOK AIRWAYS Credit Card and minimum purchase 5,000 Baht or more / sales slip. (Limited to 300 people; 1 privilege/person throughout the campaign.)
Exclusive! For spending made with KTC-BANGKOK AIRWAYS MasterCard of all types, receive 10% Cash Back.
Earn up to X4 KTC FOREVER when spending with KTC X-BANGKOK AIRWAYS VISA SIGNATURE and KTC X-BANGKOK AIRWAYS WORLD REWARDS MASTERCARD for Bangkok Airways services.
Booking Period: Now – 31 December 2019
Terms and Conditions Apply.
Terms and Conditions
This promotion ("List") Krungthai Card Public Company Limited ("KTC") is designed to provide benefits to KTC credit card members ("members") that are spend with KTC - BANGKOK AIRWAYS Credit Card as specified ("card") via www.bangkokair.com of Bangkok Airways Public Company Limited ("Bangkok Airways") between 1 April 2019 - 31 December 2562 ("Program duration") according to the conditions specified Those except KTC VISA CORPORATE GOLD, KTC - SCG VISA PURCHASING, and KTC card for government agencies cannot participate in this program.
KTC reserves the right to give FlyerBonus points according to this program to members who have spending over 5,000 baht or more per sales slip via www.bangkokair.com, within the program period. And maintaining the status of a FlyerBonus member before the transaction date in order of transaction (spending) via the card which came into the system of KTC only for the first 300 lucky winners
KTC will retrieve the transaction sequence data for spending via the card of the member through the specified channels. Only items that have a spending amount of 5,000 baht or more per sales slip, which occurred within the program period. (Based on the time zone in Thailand and data in the KTC system as priority.
The list of monthly eligible cardmembers under the determined terms and conditions will be sent to Bangkok Airways to confirm their existing FlyerBonus accounts within 60 days after the last day of monthly campaign to manage the bonus points prizes into their accounts within 15 working days. The next ranking number of eligible cardmembers will be selected in case the status of prior eligible cardmember is not met the determined terms and conditions. KTC reserves the rights to make the final decision.
KTC reserves the right to grant the prizes "5,000FlyerBonus points" to the existing KTC-BANGKOK AIRWAYS credit card accounts which will be verified and confirmed by Bangkok Airways and having good payment records through the campaign period.
KTC reserves the right to calculate spending via the card, in order to provide benefits according to this list. Only for spending on regular payment of goods / services, payment for goods / services of all types of Installment payment with KTC Card plan. Calculated from the amount before the payment and payment / bill payment transactions via automatic credit card only. Eexcluding payment of cash withdrawals, payment of LTF / RMF units for all funds, interest, fees, fees, fines and various fees refunds arising from cancellation of purchases of products / services. Or refunds caused by all types of refunds calculated to provide benefits according to this list.
Benefits according to this list cannot be used in conjunction with other promotions. And cannot be refunded, exchange into cash nor transferred to any third party.
Bonus points do not count towards membership status.

KTC reserves the right to provide benefits according to this list. Only members with normal account status and no record of default payment throughout the program period. (Until the date KTC gives benefits by considering the data of KTC as priority.
KTC reserves the right to award, cancel, revoke or reclaim any privileges granted to the cardmembers under this promotion, wholly or partially, including the claim of compensation for damages (if any) if fraudulent activities are committed in order to receive this privilege, or if the credit card is used for any commercial purpose, in breaching of determined conditions, and for any non-consumption purpose, or when the transaction is cancelled after KTC duty granted privilege under this promotion to the cardmembers.
KTC does not involve in the products or services. In case the KTC cardmembers wish to get more information or give any feedbacks about products and/or services of Bangkok Airways or request for receipts, please contact directly to Bangkok Airways.
KTC and Bangkok Airways reserve the right to amend or cancel terms and conditions, details, and/or privileges of this promotion (including changing to any other prizes with equivalent value) without prior notice. In the case of a dispute, KTC's decision is deemed final.
KTC reserves the right to request proof of membership spending in some cases. Members are kindly requested to collect necessary evidence such as sales slip, spending amount for verification purposes and are not responsible for any loss of data or technical problems.
KTC reserves the right to assume that all members who participate in the program and have spending on all types of KTC credit cards throughout the program period and has agreed to accept all the terms and conditions of this promotion.
Other terms and conditions are subject to FlyerBonus terms and conditions.
Terms and conditions for cash back 10% for KTC - BANGKOK AIRWAYS MASTERCARD credit card
Special privilege cash back 10% only for air ticket booking Bangkok Airways With KTC-BANGKOK AIRWAYS MASTERCARD credit cards of all types via www.bangkokair.com between 1 Jan 19 - 31 Dec 19
KTC will transfer the refund credit into the member's card account within 60 days after the last day of the transaction month.
Benefits according to this list cannot be used in conjunction with other promotions. And cannot be refunded, exchange into cash nor transferred to any third party.
KTC reserves the right to provide benefits according to this list. Only members with normal account status and no record of default payment throughout the program period. (Until the date KTC gives benefits by considering the data of KTC as priority.
KTC reserves the right to award, cancel, revoke or reclaim any privileges granted to the cardmembers under this promotion, wholly or partially, including the claim of compensation for damages (if any) if fraudulent activities are committed in order to receive this privilege, or if the credit card is used for any commercial purpose, in breaching of determined conditions, and for any non-consumption purpose, or when the transaction is cancelled after KTC duty granted privilege under this promotion to the cardmembers.
KTC does not involve in the products or services. In case the KTC cardmembers wish to get more information or give any feedbacks about products and/or services of Bangkok Airways or request for receipts, please contact directly to Bangkok Airways.
KTC reserve the right to amend or cancel terms and conditions, details, and/or privileges of this promotion without prior notice. In the case of a dispute, KTC's decision is deemed final.
For more information, please contact KTC PHONE 02 123 5000