Bangkok Airways and Qatar Airways Announce Partnership on Frequent Flyer Programmes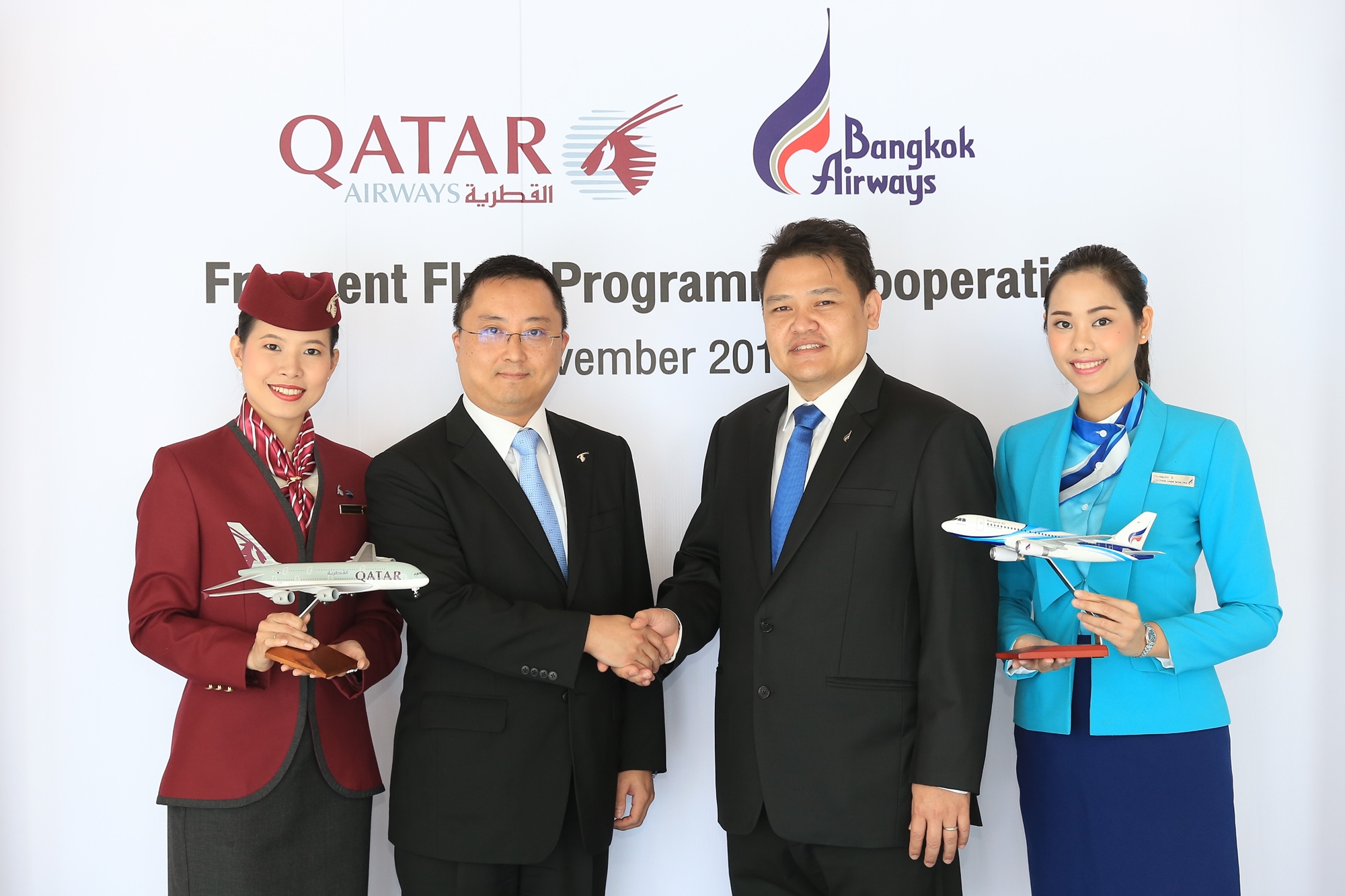 1. Mr. Jirapon Hirunrat, Vice president - Fleet and Network Management of Bangkok Airways (3rd from Left) 2. Mr. Terence Yu, Country Manager – Thailand & Myanmar of Qatar Airways (2nd from Left)
Bangkok / 9 November 2017 - Bangkok Airways Public Company Limited is pleased to announce the launch of its frequent flyer programme partnership with codeshare partner, Qatar Airways, starting 1 November 2017. Bangkok Airways FlyerBonus members can earn and redeem FlyerBonus points on eligible Qatar Airways flights.
From 1 November 2017 onwards, Bangkok Airways's Flyer Bonus members will be able to earn points when travelling on Qatar Airways flights. Similarly Qmiles members can also earn and redeem their miles when travelling on Bangkok Airways flights to the world's favorite destinations such as Samui, Krabi, Phuket, Luang Prabang, Danang, Phu Quoc via Bangkok and opportunity to redeem Qmiles across Bangkok Airways' network.
Mr. Jirapon Hirunrat, Vice president - Fleet and Network Management of Bangkok Airways "We are pleased to add Qatar Airways as another partner for our FlyerBonus members to earn and redeem miles. Enhancing reciprocal reward benefits for our FlyerBonus members will enables us to deliver a seamless experience when flying domestically and internationally across the combined networks of Bangkok Airways and Qatar Airways. We believe that this partnership will bring significant benefits to passengers of both Airlines."
Qatar Airways Chief Commercial Officer, Mr. Ehab Amin said: "This reciprocal relationship between Privilege Club and FlyerBonus is a natural extension of the highly productive relationship that we have enjoyed with Bangkok Airways since our codeshare partnership began in May 2013. We are delighted to be able to extend the range of benefits available to our Privilege Club members, through our relationship with this trusted partner."
The frequent flyer partnership is the second major cooperation between Bangkok Airways and Qatar Airways. The code-share agreement between the two airlines in May 2013 laid the foundation for the continued success of this long-term partnership.
FlyerBonus is the frequent flyer programme of Bangkok Airways, offering exclusive privileges and benefits to its members including premium lounge services and generous baggage allowance.
About Bangkok Airways
Bangkok Airways (www.bangkokair.com) - an award winning regional airline, is Thailand's first private airline that has been providing exceptional comfort and safety to all passengers since 1968. Bangkok Airways flies travelers from around the world to more than twenty exquisite destinations across Thailand and Asia. Samui, Phuket, Trat (Koh Chang), Maldives, Danang and Phu Quoc are amongst the world's most renowned beach destinations, while Sukhothai, LuangPrabang and Siem Reap (Angkor) are World Heritage sites. Currently, Bangkok Airways' fleet consists of 38 aircrafts; 6 ATR72-500s, 9 ATR72-600s, 14 A319s and 9 A320s.

About Qatar Airways
Qatar Airways, the national carrier of the State of Qatar, is celebrating 20 years of Going Places Together with travellers across its more than 150 business and leisure destinations. The world's fastest-growing airline will add a number of exciting new destinations to its growing network in 2017/18, including St. Petersburg, Russia; Chiang Mai, Thailand; Canberra, Australia and many more, flying passengers on board its modern fleet of more than 200 aircraft.
Claim
Redeem Now