PHUKET is Calling! Receive 2,000 FlyerBonus points when booking a 3 Day, 2 Night stay at Wyndham Grand Phuket Kalim Bay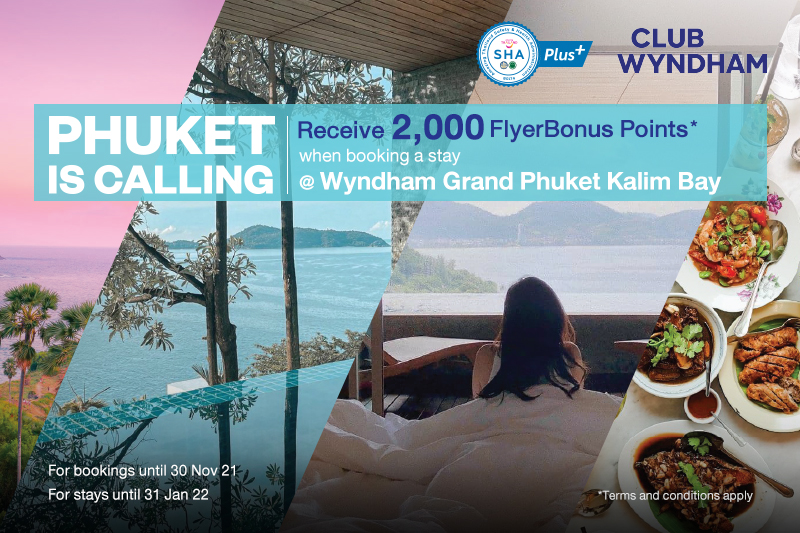 Nestled on the edge of a cliff with awe-inspiring views of the Andaman Sea, our newly built resort is ideal for leisure and group travelers. Wyndham Grand Phuket Kalim Bay offers a bounty of upscale amenities, including a full-service spa, outdoor pool, state-of-the-art fitness center, and sumptuous dining.
FlyerBonus members can receive 2,000 FlyerBonus points* and many more benefits when purchasing a 3 Day, 2 Night package at Wyndham Grand Phuket Kalim Bay.
Packages
Net Price
Pool Suite Ocean View
THB2,999
(including daily breakfast for 2 persons)
2 Bedroom Pool Suite
THB5,999
(including daily breakfast for 4 persons)
Benefits:
Free! Daily Breakfast
One-time Dinner Set Voucher valued at THB3,000 for The Charm Restaurant (Michelin Guide-Listed) per stay.
2,000 FlyerBonus points per stay for FlyerBonus members
The hotel adheres to SHA Plus standards and safety protocols. Please be assured that the hotel will provide you with a clean and exclusive stay.
Booking period : 1 October 2021 - 30 November 2021
Stay Period : 1 October 2021 - 31 January 2022
Due to the recent spike in local transmissions in many areas of the country, please familiarise yourself with the hotel's safety measures or contact the respective property directly for more information. Additionally, please keep yourself updated on the latest announcements and travel advice for each destination from the relevant authorities before proceeding with travel plans.
Wyndham Grand Phuket Kalim Bay
8/18-19 Moo 6 Kamala, Kathu, Phuket 83150
Tel: +66 76 346 752
Email : ihcmarketing.thailand@wyn.com
Line : @ihcbyclubwyndham
*Terms and Conditions apply
Terms and Conditions
This offer is provided at a discounted rate in return for mandatory attendance and completion of the 90 minute Club Wyndham Showcase during their stay. Guests are under no obligation to purchase anything.
This offer is eligible to FlyerBonus Members aged between 28-65 years with a minimum combined monthly income of THB 130,000.
This offer only applies to FlyerBonus members whose membership approval status has been confirmed prior to undertaking a reservation. If not yet a member, click here to enrol instantly.
FlyerBonus members are required to make a reservation in advance, between 1 October and 30 November 2021, for stays between 1 October 2020 and 31 January 2022 via the applicable channels (Email: ihcmarketing.thailand@wyn.com or call 076-346-752 or Line @ ihcbyclubwyndham) and make payment in full. Members are required to quote their FlyerBonus membership number at the time of hotel booking in order to earn FlyerBonus points.
Missing points from this offer cannot be claimed retroactively.
This offer is valid for bookings in the participating packages only. Please contact the hotel's reservations department for further package-related information.
A Black Out period applies between 31 December 2021 and 1 January 2022.
This offer is non-refundable, non-exchangeable and non-transferrable.
Points will be credited to the member's account no later than the following month post-reservation.
Points earned from this offer cannot be counted towards FlyerBonus membership level status.
The stated terms and conditions can be changed at any time, with or without prior notice and as a result of any announcements made from relevant authorities.
Any other terms and conditions for FlyerBonus points collection are subject to the hotel.
In case of any dispute, the hotel reserves the right to make the final decision.


Kindly be informed that by entering the partner's website and registering for any of their promotions, the collection of any personal data or information generated from the perusal of any of their pages will be in accordance with their policies on data usage and cookie policies. Reading through and fully comprehending their policies is strongly encouraged prior to filling in and providing your consent upon registration.


The FlyerBonus programme will not collect any data on transactions made, external pages visited or usage and disclosure analytics. No responsibility will be taken for any subsequent consequences as a result of visiting partner's website and undertaking any bookings involving consent.