Enjoy your special birthday month by earning TRIPLE FlyerBonus Points when flying with Bangkok Airways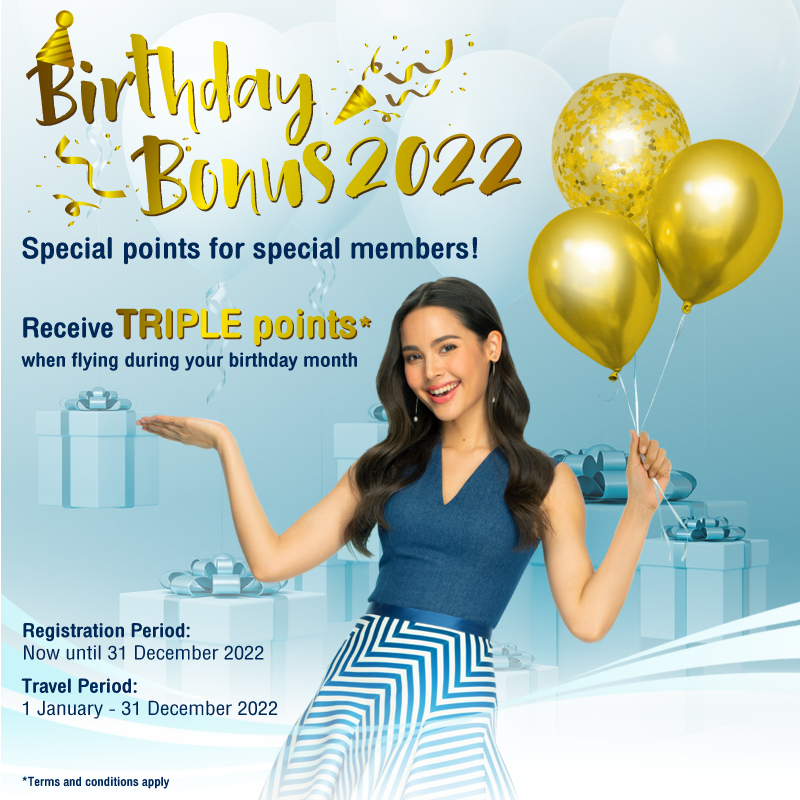 Your birthday is a special occasion and deserves a special FlyerBonus offer! Fly with Bangkok Airways during your birth month and you'll be rewarded with TRIPLE points on every flight taken.
To avail yourself of this offer, members are required to firstly register by clicking on the link below and as always, remember to quote your FlyerBonus membership number when making a reservation or during check-in.
Registration:
Now until 31 December 2022
Travel:
1 January – 31 December 2022
Wishing you a very happy birthday filled with the greatest of joys.
*Terms and Conditions apply.
Terms and Conditions
This offer only applies to members who have successfully registered between 27 December 2021 and 31 December 2022 and travel on Bangkok Airways coded and operated flight during 1 January – 31 December 2022.
This offer only applies to members whose membership approval status has been recorded and confirmed prior to the date of travel.
To receive the special bonus offer, FlyerBonus members must have registered successfully via the special offer link prior to their planned date of travel
To receive the special bonus points offer, members need to accurately quote their FlyerBonus Membership Number and state their intention to collect Bonus FlyerBonus points every time a reservation is made with Bangkok Airways. Membership cards need to also be presented at Check-In.
'Triple Points' in this offer are calculated as the total number of earned base points and bonus points.
Bonus points will be calculated from the total of flight activity base points earned, which in turn are determined by the Booking Class. Click here for more details about how points are earned.
For example;
- A member will receive a total of 1,500 FlyerBonus points (500 base points plus 1,000 bonus points) when flying Bangkok - Chiang Mai on a ticket purchased in 'Y' Booking Class.
- A member will receive a total of 150 FlyerBonus points (50 base points plus 100 bonus points) when flying Phuket - Bangkok on a ticket purchased in 'P' Booking Class.
To qualify for the special points offer, FlyerBonus members must fly in their birthday month, as recorded in their membership profile. The offer is applicable for every completed Bangkok Airways flight in the birthday month only.
Should there be any other FlyerBonus bonus point promotions on offer, FlyerBonus members will earn FlyerBonus points at the amount of points offered to all members, whichever is more. Otherwise defined in terms and conditions published by FlyerBonus.
The special points will be credited to members' accounts at the end of the consecutive month following the month that flight was taken.
Missing bonus points on this offer cannot be claimed retroactively
This offer is not applicable for flight activity on award tickets, or tickets booked in the classes of X, Z, and S.
Bonus points do not count towards membership status.
Birthdate alterations after initial enrolment are permitted with applicable legal documentation clearly indicating the accurate birth date. Requests can be made by submitting a certified true copy of the member's identification card or passport via e-mail flyerbonus@bangkokair.com
Bangkok Airways reserves its absolute right at any time to add, alter, modify, change or vary any or all of the terms and conditions stated herein.
In case of any disputes, the decision of Bangkok Airways is final. All other Terms and Conditions of FlyerBonus apply.