KTC X-BANGKOK AIRWAYS Cardholders Redeem Tickets for 2 at Special Rates
KTC X-BANGKOK AIRWAYS VISA SIGNATURE and KTC X-BANGKOK AIRWAYS WORLD REWARDS cardholders (both new and existing members) can redeem Round-Trip Bangkok Airways Award Tickets for 2 persons at the special rate of 25,000 KTC Forever Points only*. This offer accommodates TWO passengers flying together to any currently operating Bangkok Airways domestic destination**.
Two Simple Steps to Follow
STEP 1: Contact KTC Phone 02 123 5000 and state your intention to convert 25,000 KTC Forever Points (equivalent of 16,666 FlyerBonus Points) in order to enjoy the offer.

STEP 2: Once the points appear in your FlyerBonus Account, simply select 'Bangkok Airways Air Awards' and click on the ' KTC X Card Promo' tab.
For more information, please contact our Call Center on 1771 and press 2 or +66 (0) 2 270 6699 (7 days a week, between 08.00 and 20.00 hrs.)
KTC Forever Points Conversion Period: 1 January – 31 October 2023
Ticket Redemption and Travel Period: 1 April – 31 December 2023
Please enter your FlyerBonus ID in PROMO CODE box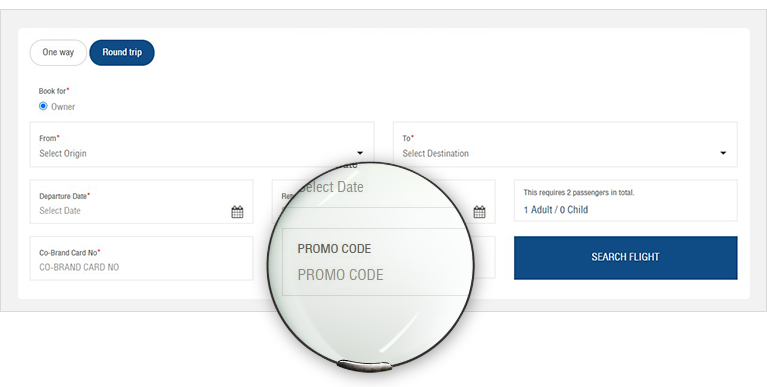 *Terms & Conditions for KTC Forever 25,000 Points
This promotion is arranged by Krungthai Card Public Company Limited or KTC to grant exclusive privileges to KTC X - BANGKOK AIRWAYS WORLD REWARDS MASTERCARD and KTC X - BANGKOK AIRWAYS VISA SIGNATURE cardmembers ("card") according to the conditions applied.
Primary cardmembers will get extra 25,000 KTC FOREVER points when paying 5,000 Baht annual fee (excluding 350 Baht VAT) in full within first billing cycle during 1 January 2023 – 31 October 2022. In which, the extra points will be transferred into credit cardmember's account within 60 days, if all conditions are met.
KTC reserves the right not to refund annual fee in case of card cancellation during the year.
KTC reserves the right to redeem award ticket from Bangkok Airways only once per card and transfer to FlyerBonus before 31 December 2022 only.
KTC reserves the right to award, cancel, revoke or reclaim any privileges granted to the cardmembers under this promotion, wholly or partially, including the claim of compensation for damages (if any) if fraudulent activities are committed in order to receive this privilege, or if the credit card is used for any commercial purpose, in breaching of determined conditions, and for any non-consumption purpose, or when the transaction is cancelled after KTC duty granted privilege under this promotion to the cardmembers.
KTC reserves the right to offer privilege under this program to cardmembers who maintain their membership status and who are without a record of default or outstanding payment throughout the program until the day on which the privilege is granted to the cardmembers, in accordance with KTC's existing record.
The privilege under this promotion can neither be refunded or exchanged into cash, nor may it be transferred to any third party.
KTC reserves the right to amend or cancel terms and conditions, details, and/or privileges of this promotion (including changing to any other prizes with equivalent value) without prior notice. In the case of a dispute, KTC's decision is deemed final.
For more information, please call KTC EXCLUSIVE SERVICE 02 123 544
**Terms and Conditions for Award Redemption
This offer applies to primary cardholders of KTC X-BANGKOK AIRWAYS VISA SIGNATURE and KTC X-BANGKOK AIRWAYS WORLD REWARDS MASTERCARD only, whose status is confirmed and deemed valid, prior to the time of booking and is listed as one of the passengers in the travelling party
This offer is for 2 passengers travelling together only under the same reservation code, route, flight and date
Redemptions must be undertaken online via flyerbonus.bangkokair.com. Once accessing the page, select 'Bangkok Airways Air Awards' and click on 'KTC X Card Promo' to proceed with the award booking.
The eligible ticket redemption period is between 1 April 2023 (open from 08:00 a.m.) and 31 December 2023 and the valid travel period is also between 1 April 2023 and 31 December 2023
This offer is applicable for round-trip tickets in Economy Class (Booking Class X) on schedule flights marketed and operated by Bangkok Airways only
Award tickets cannot be issued as an open ticket and are valid for the travel date and destination shown on the ticket only. After award ticket issuance, changes to the reservation including travel date, route variations, ticket cancellation and point re-depositing are NOT permitted.
This offer is applicable on the number of points required for the award ticket only. Taxes and any applicable fees are charged separately and are NOT subject to any discount.
All applicable taxes, fees and surcharges are the member's responsibility and must be paid with their KTC X-BANGKOK AIRWAYS credit card. The name on the card must match the name of their FlyerBonus membership account.
Awards are subject to capacity control which may limit the number of seats available for award travel and discontinuing any award is solely at the discretion of Bangkok Airways
An award ticket is considered used if a member fails to check-in and take a flight already reserved. Any subsequent segments under the same booking will be cancelled and members will not be able to refund any applicable surcharges or fees or re-deposit the redeemed points.
Offers cannot be used in conjunction with any other promotion, discounts or packages and are non-exchangeable, transferrable or redeemable for cash.
Award tickets cannot be used in conjunction with the 'Rao Tiew Duay Kan' (We Travel Together) tourism campaign.
The offer is limited to one redemption per member throughout the campaign period.
An award ticket that has been bought, sold or bartered by or to a member maybe cancelled or confiscated without prior notice and is at the sole discretion of Bangkok Airways. All rights, including the right to bring legal action or to cancel a membership, are also reserved.
Unless otherwise stated above, other Terms and Conditions of FlyerBonus apply.
Bangkok Airways reserves the right to adjust the number of points required for a particular award, withdraw an award or impose additional restrictions on awards as well as withdraw, replace or substitute awards at any time with or without notice.