Special Transfer rate, 10,000 SCB Rewards points = 5,000 FlyerBonus points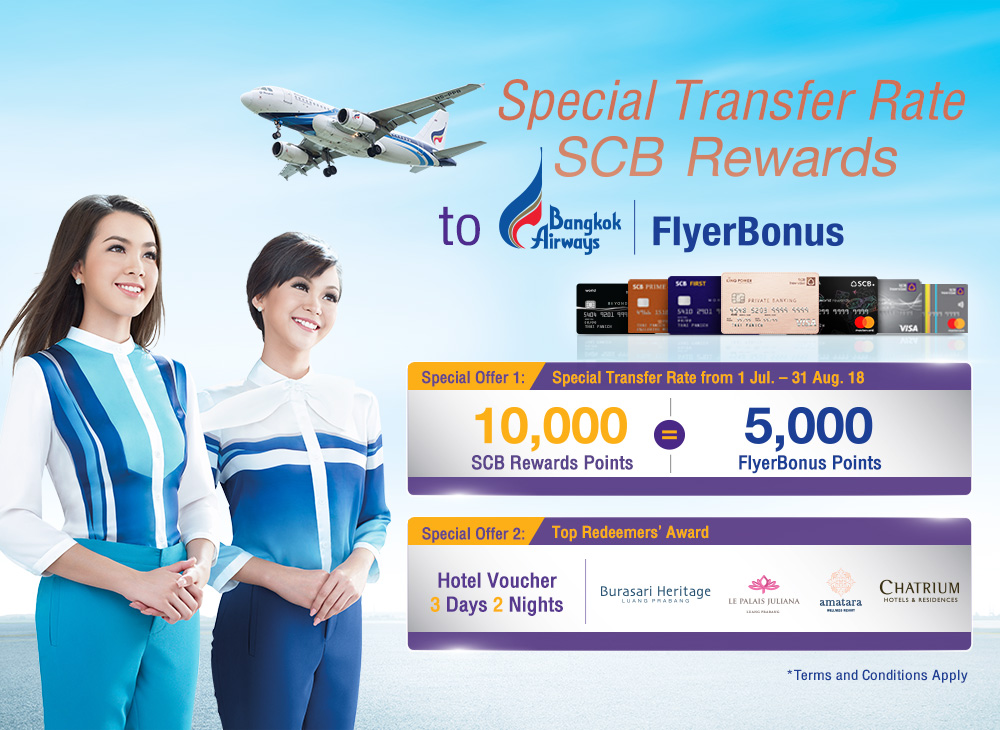 Special Offer #1: SCB Credit Card holders receive a special transfer rate of 10,000 SCB Rewards points to 5,000 FlyerBonus points only from 1 July until 31 August 2018. (Limited to 20,000 points transferrable per card/campaign)
| SCB Rewards Points | FlyerBonus Points |
| --- | --- |
| 10,000 Points | 5,000 Points |
---
Special Offer #2: Top 23 Redeemers during the promotional period, receive a 3 Days 2 Nights hotel voucher at leading hotels
| Top Redeemers | Hotels | Value |
| --- | --- | --- |
| 1 - 3 | Burasari Heritage Resort Luang Prabang | 13,860 Baht |
| 4 - 8 | Le Palais Juliana Hotel & Residences | 12,600 Baht |
| 9 - 18 | Amatara Wellness Resort | 12,000 Baht |
| 19 - 23 | Chatrium Golf Resort Soi Dao Chantaburi | 5,000 Baht |
Convert SCB Rewards points now through SCB Easy App or contact SCB Credit Card Customer Services at 02 777 7777.
Promotional Period: 1 July – 31 August 2018
Terms and Conditions
Special transfer rate of 10,000 SCB Rewards points to 5,000 FlyerBonus points, limited to 20,000 points transfer per card/campaign.
The SCB Rewards points must be exchanged through SCB Easy Application or by contacting SCB Credit Card Customer Services at 02 777 7777.
A cardholder who wants to transfer the SCB Rewards points to FlyerBonus points must be a valid member of FlyerBonus Programme. If you are not already FlyerBonus member, Click here to enroll instantly online!
Once the SCB Rewards points are transferred to FlyerBonus points, the converted points cannot be changed back to SCB Rewards points
Transferring the SCB Rewards points to FlyerBonus points takes up to 5 working days. Award redemption and award booking must be completed online at flyerbonus.bangkokair.com at least 5 days before the date of travel. The cardholder has to ensure that there is enough time for FlyerBonus to process the request.
Bonus points do not count towards membership status
Redeeming FlyerBonus award is based on FlyerBonus Programme's terms & conditions. Members can redeem for FlyerBonus awards at flyerbonus.bangkokair.com.
Calculations of total transferred points to FlyerBonus points for top redeemers will be calculated for transactions during 1 July – 31 August 2018.
Top Redeemers will be announced within 60 days after the promotional period. Bangkok Airways will send the hotel vouchers by registered mail to the Top Redeemers according the member's provided address with FlyerBonus.
FlyerBonus Customer Service Hours are from 8:00am – 8:00pm daily. Tel. 1771 (Domestic Calls) or 66(2) 270 6699 (Press 2) (For International Calls)
This promotion cannot be used in conjunction with other promotions.
SCB and Bangkok Airways reserve the right to change the programme structure, rules, regulations, benefits and all other Terms & Conditions in whole or in part at any time with or without prior notice, even though change may affect the value of the points or awards already issued.
In the event of any dispute or argument, the decision by the Bank and FlyerBonus shall be absolute and final.