KTC SimpliFLY at Bangkok Airways, receive up to THB700 CASH BACK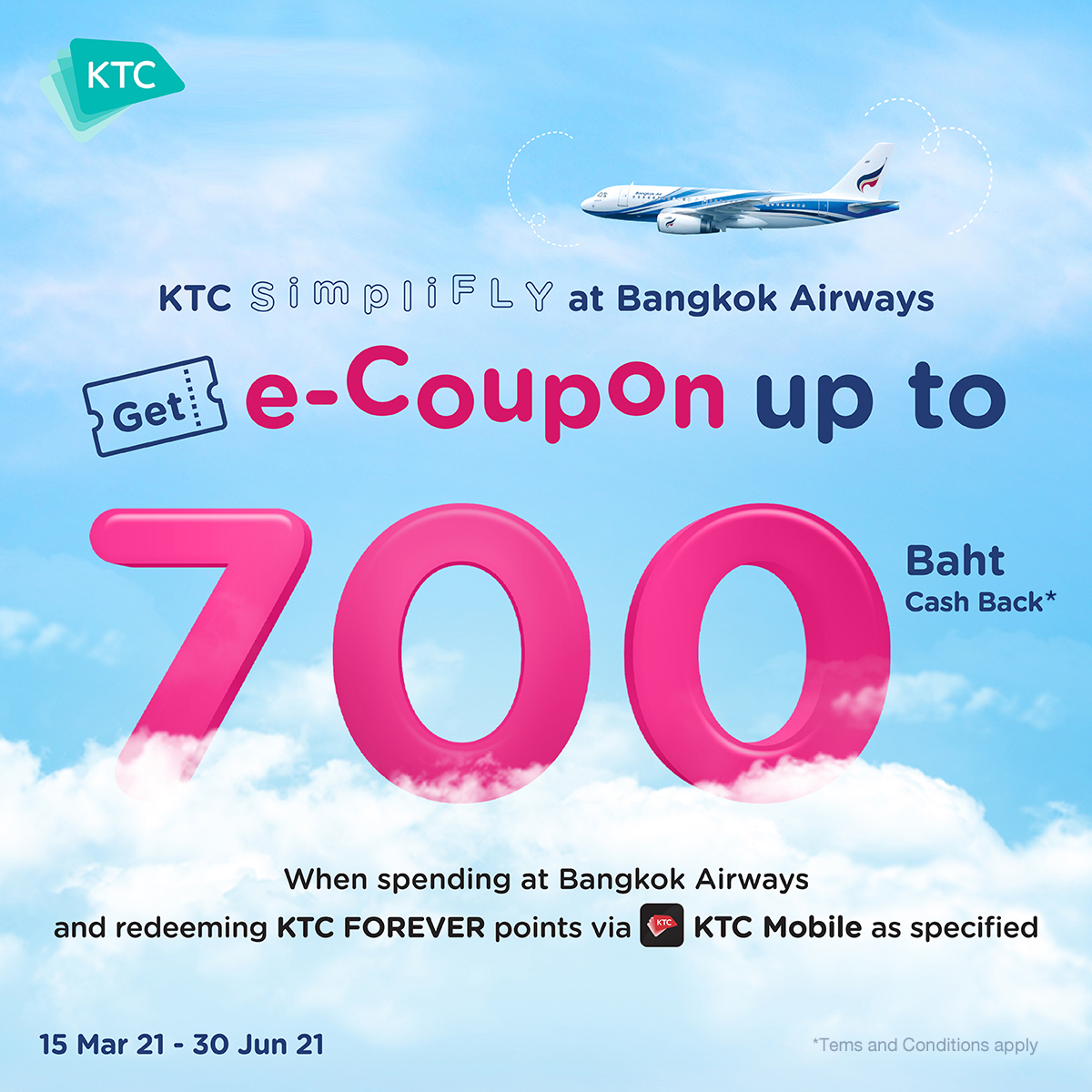 Receive as much as THB700 in CASH BACK* e-coupon when spending at participating Bangkok Airways booking channel no less than THB 2,000 per sales slip and redeem KTC FOREVER points via KTC Mobile Application as specified.

| | | |
| --- | --- | --- |
| Spending Amount / Sales slip | KTC FOREVER Points | Cash Back Amount |
| THB 2,000 - 4,999 | 2,000 Points | THB 250 |
| THB 5,000 or more | 5,000 Points | THB 700 |
Promotion period : 15 March - 30 June 2021
Participating booking channel:
Bangkok Airways website : www.bangkokair.com
Bangkok Airways Office
Bangkok Airways Call Center 1771 or +66(0) 2 270 6699

For more information :
Website : www.ktc.co.th
KTC PHONE 02-123-5000
*Terms and conditions apply

Terms and Conditions
This promotional campaign ("this promotion") is provided by Krungthai Card Public Company Limited or KTC to offer the credit cash back to KTC credit cardmembers ("a cardmember / cardmembers") who have KTC FOREVER points ("KTC Points") and directly spend with KTC credit card ("a card/cards") at participated airline's website during 1 Apr 21 - 30 June 21 ("promotion period") according to specified conditions only.
KTC reserves the right to exclude following card to join this promotion: KTC JCB all types, KTC CASH BACK all types, KTC - THAI RED CROSS NATIONAL BLOOD CENTRE, KTC VISA CORPORATE, KTC - SCG VISA PURCHASING, all types of KTC - ROYAL ORCHID PLUS and KTC GOVERNMENT SERVICES card.
The cardmembers who spend directly with KTC credit card at participated airline's website may redeem KTC FOREVER points to receive credit cash back in accordance with specified conditions below;
- Spending 2,000 - 4,999 Baht and redeeming 2,000 KTC FOREVER, Get e-Coupon 250 Baht Cash back
- Spending more than 5,000 Baht and redeeming 5,000 KTC FOREVER, Get e-Coupon 700 Baht Cash back
KTC Points redemption for credit cash back under this promotion is only for the payment in airline category per 1 sales slip only. Multiple sales slips cannot be combined for redemption.
For the calculation of spending amount with the card in order to receive a credit cast back under this promotion, KTC will calculate based on the total spending amount starting from the successful registration day.
KTC reserves the right to exclude interest, credit line usage fee, fine and any other fees and charges, refunds from cancellation of goods/services purchase and any refund at all from the calculation of privileges offering to cardmembers under this promotion.
KTC will credit a credit cash back into the cardmember's credit card account within 3 days after redeeming points
The privileges under this promotion cannot be exchanged, changed to cash, or transferred to any other party.
KTC reserves the right to offer the privileges under this promotion to only cardmembers with normal account status and have no record of default or overdue payment throughout the promotion period until the day on which the privileges are granted to the cardmembers, in accordance with KTC's existing record.
KTC reserves the right to offer, cancel, revoke or recall any privileges under this promotion, wholly or partially, including the claim of compensation for damages (if any) if fraudulent activities are committed in order to receive the privileges under this promotion, or if the card is used for any commercial purpose, in breaching of determined conditions, or for any non-consumption purpose, or when the transaction is cancelled after KTC granted the privileges under this promotion to the cardmembers.
KTC reserves the right to amend, change, or cancel the terms and conditions, details, and / or privileges of this promotion (including changing to any other prizes with equivalent value) without prior notice. In the case of any dispute, KTC's decision is deemed final.