Samui Resident Card
Exclusive offers for FlyerBonus Samui Resident Card Members only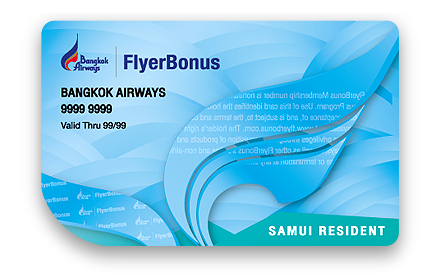 Special one way fares between Samui – Bangkok and Samui –Pattaya are now on offer from as little as THB 2,750 (reduced from the previous rate of THB 3,255).
An array of privileges are up for the taking when flying Bangkok Airways to/from Samui Airport on other routes
*Prices are subject to change without notice.
Samui Resident Card members simply make reservation for special fare tickets at Bangkok Airways office call 1771 or Online Reservation! Click >>

30% discount on normal published Y or C fares on all Bangkok Airways domestic and international flights departing and arriving at Samui International Airport
Card Validation
The Samui Resident Card is valid for 2 years after card approval.
The approval will be made within 5 working days (after receiving the documents).
For more information, please contact : FlyerBonus Bangkok Airways
Tel. +66 (0) 2270 6699 or 1771 (press 2) Office hours: 08:00 - 20:00 Thailand GMT +7.
Applicant Qualifications
Must be
A Koh Samui, Koh Pha Ngan or Koh Tao resident or
A descendant or spouse of a resident of Koh Samui, Koh Pha Ngan, or Koh Tao whose name appears on the household registration certificate.
An owner and holder of the title to the property or land on Koh Samui or Koh PhaNgan Koh Tao District.
A hotel/business employee on Koh Samui, Koh Pha Ngan or Koh Tao*
An owner of an operating business on Koh Samui, Koh Pha Ngan or Koh Tao
A government official on Koh Samui, Koh Pha Ngan or Koh Tao
A student at school, college or university on Koh Samui, Koh Pha Ngan or Koh Tao (Under Office of the Basic Education Commission, Ministry of Education). And must NOT be Language School , Tutorial Programs and Nursery Schools.
A practising monk at a temple on Koh Samui, Koh Pha Ngan or Koh Tao
A medical service employee at a hospital on Koh Samui, Koh Pha Ngan or Koh Tao
*Applications for Corporate Memberships will be subject to FlyerBonus Terms and Conditions (for more information please refer to the supporting documentation)
Must NOT be
A Trat Privilege Card member, Sukhothai Privilege Card member and/or Mae Hong Son Privilege Card member
An employee of Bangkok Airways or a company directly associated with Bangkok Airways
Required Documents
A copy of one of the following forms of identification showing an address on either Koh Samui, Koh Pha Ngan or Koh Tao:
Birth Certificate copy ( For children under the age of 7)
National Identification Card
Valid Passport (with a secondary form of documentation showing a valid island address)
Student Identification Card
Residence Registration of the applicant or parent
Marriage Registration certificate with an island resident
Land or Property Title Deed
Ordained Buddhist Monk Identification Card
Medical Services Employee Certification showing the hospital or provider's address
Employee Certification, Work Permit (minimum of 6 months old from the date of application) or Company Registration Certification (maximum of 20 employees per company) effective from 1 January 2022 onwards
Application fee THB300 today until 31 December 2022
Effective 01 June, 2022, hard copy documentation will no longer be accepted for applications or renewals.
Application Procedure
All supporting documentation must be valid and in accordance with the requirements above
Samui Resident Card benefits can be utilized immediately upon card receipt
The approval will be made within 5 working days (after receiving the documents).
Bangkok Airways reserves the right to reject the application if an applicant:

a. Does not abide by the documentation or qualification requirements
b. Dishonestly attempts to gain benefits from Bangkok Airways and/or provides false information
Terms and Conditions
This exclusive offer is for valid Samui Resident Card Members only. The ticket must be issued under the applicable Samui Resident Card member's name.
Members need to accurately quote their FlyerBonus Membership Number or present their Samui Resident Card every time a reservation is made with Bangkok Airways
The Samui Resident Card and its benefits are non-transferable to any other individual. Bangkok Airways reserves the right to adjust prices or impose additional restrictions at any time with or without notice. Bangkok Airways reserves its absolute right at any time to add, alter, modify or change or vary any or all the terms and conditions stated herein
In case of any disputes, the decision of Bangkok Airways is final.
Other Terms and Conditions of FlyerBonus apply.

Other Privilege Cards