Bangkok Airways FlyerBonus and Emirates Skywards Partner to Expand Member Benefits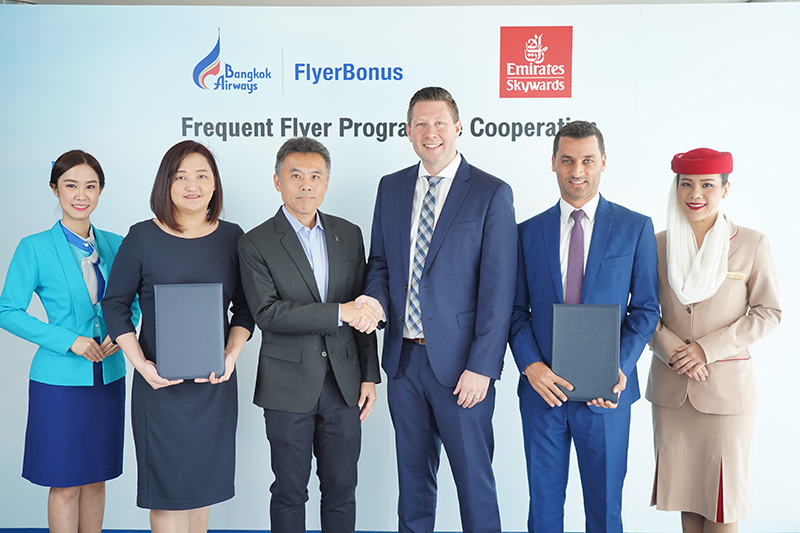 Bangkok - Bangkok Airways Public Company Limited (PG) and Emirates (EK) are pleased to announce a new collaboration of its frequent flyer programmes, effective from 5 November 2019 onwards. This new partnership will expand the benefits that members of Bangkok Airways FlyerBonus and Emirates Skywards can enjoy, complementing the successful codeshare partnership that the two airlines have shared since 2015.

With the integration of both airlines' loyalty programmes, members of both Bangkok Airways FlyerBonus and Emirates Skywards will enjoy the convenience and benefits of accruing and spending rewards points when traveling on Bangkok Airways and Emirates flights, and be on their way to enjoying more rewards in the air and on the ground.

Mr. Chulin Kocharoen, Acting Vice President Sales of Bangkok Airways said "I am excited to be announcing today that Bangkok Airways and Emirates, a trusted airline among the Thai people, will be elevating our cooperation to the next level to offer even more to the respective members of our FlyerBonus and Emirates Skywards programmes, extending their service networks and point reward and privilege systems to provide even more special experiences." Dr. Nejib Ben Khedher, Emirates' Divisional Senior Vice President Skywards, said "Emirates Skywards is 25 million members strong and growing by the day. We constantly and proactively evaluate opportunities to ensure our program and our products add value and enrich the lives of our diverse membership base that is drawn from 180 countries. Our alignment with FlyerBonus complements Emirates' codeshare partnership with Bangkok Airways, helping our members enjoy unique rewards offered in both programs and enhancing their travel experiences."

FlyerBonus members will be able to enjoy reward flights on Emirates' vast network spanning 143 passenger destinations, including 47 cities in Europe, 22 in the Americas, 15 in the Middle East and 27 in Africa. Members of Emirates Skywards programme can explore the boutique destinations of Thailand by flying on codeshare flights operated by Bangkok Airways, and enjoy seamless connectivity to 33 destinations combined, beyond Bangkok and Phuket. In addition to the domestic Thai routes, the partnership allows passengers to travel to other South East Asian destinations, including Cambodia, Myanmar and Laos.

For further information regarding the partnership and award redemption Click Here. Members can also contact the Bangkok Airways Call Center (1771 press 2) daily between 8am -and 8pm.